Edo State First Lady, Mrs Lara Oshiomhole, who got married yesterday was at the 3rd edition of the annual IAAF certified 10km Okpekpe race, on Saturday.
She joined her husband Governor Adams Oshiomhole to perform their respective duties in the event.
Kenyan duo of Korio Olotip and Tanui Anfele emerged the winners of the respective men and women races held in Okpekpe near Auchi, Edo State.
Below are pictures of Mrs Oshiomhole presenting a trophy to Tanui Nkele, winner of the 1st prize with 33.34 minutes.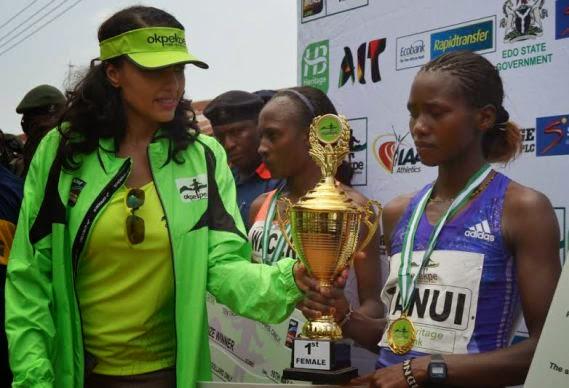 PHOTOS: Newly married Lara Fortez Oshiomhole steps out for annual Okpekpe race