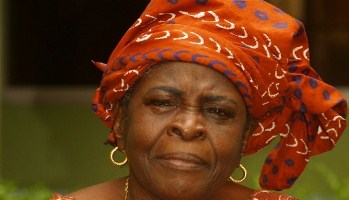 A retired Professor of Oral History at the University of Ibadan, Prof. Bolanle Awe, on Thursday listed poverty, poor moral values as some of the causes of corruption in Nigeria.
Awe said in an interview in Ibadan that corruption thrived in the country due to the passive manner in which Nigerians, especially women, tolerated the situation.
She particularly noted that, women, as home makers, abandoned their responsibilities of inculcating sound morals in their children.
The University don said it was disheartening to note that women have been passive onlookers for too long in the fight against corruption in Nigeria.
She therefore called on women to rise up against the menace and use their votes to remove corrupt leaders in the society.
Awe defined corruption as ``dishonest conduct by those in power, typically involving bribery", adding that it remained a major menace inhibiting progress and development in Nigeria.
"Corruption is an impairment of integrity, virtue or moral principles, a departure from the original or from what is right, pure or correct.
"Corruption is usually engendered by poverty, poor moral values and religious background of the perpetrators of it," she said.
Awe said that that women must stand to the task, face it squarely and be ready to say no to it in all areas of life.
"The emphasis placed on the joy and comfort of corruption should be ignored, because participation in politics should be for a clean and pure purpose.
"As women, we must have a duty-based outlook on uprightness; when your husband brings home money, you should ask questions.
"Our fight against corruption must start from the home, our husbands, children and churches and our actions must continue to speak to us.
"Utilitarianism should be employed in our campaign against corruption, as the position we take depends on our value system of Nigeria.
"We must never support incompetent women in leadership positions in Nigeria; since they are supposed to be example of what is right.
"The failure of one woman in a position of power is a failure of one nation," she said.
The don said in the early sixties, there was right social value and dignity of labour in what people do.
"Corruption came in as a result of mismanagement of our resources and change in our social values.
"Nigeria was known for excellence all over the globe until this social values changed for the negative in early `76 when they became connected to a lot of atrocities.
"We are now feared all over the world since all sorts of atrocities like drug pushing, fraud, and now kidnapping, rape, bunkering, and insurgency have permeated our systems as Nigerians.
"People who are custodian of our resources, steal our money and throw lavish parties; because of corruption you see a wrong kind of social values," she said.
Awe said that every woman should go back to the foundation of the child, which is the home, ``since everything starts from the home.''
"As mothers we have responsibilities to give social values to our children; while children love their mothers and it is unusual for a child not to do this.
"We must be able to comment on our rulers; voice out and use our votes to remove the corrupt ones.
"Illiterate women among us should be sensitized on the power of their votes and therefore they should endeavour to go out to vote during elections.
"At all levels, corruption is corruption; we have responsibilities to coach other women who are not as privileged as we are," she said.
Awe said women must transform from passive onlookers to active participants, so as to bring about good governance in the country.
A
bout
Professor Bolanle AWE
Professor Bolanle AWE, a retired professor of Oral History at the University of Ibadan. She had her education at Perse School for Girls Cambridge, St. Andrews University, Scotland and Somerville College, University of Oxford, England. She graduated M.A (Hons) History from St. Andrews University Scotland in 1958 and D.Phil History from University of Oxford, England in 1964. She joined the staff of University of Ibadan in 1960 as a Lecturer and rose to the position of a Professor in 1976. Professor Awe has held various Administrative positions at the University of Ibadan and other Universities across the world and also in the Public service as Commissioner for Education and Commissioner for Trade, Industries and Cooperatives in the old Oyo State Government of Nigeria.
Professor Awe has been Consultant to various Organisations across Africa. Her contributions have attracted recognitions in form of honours and election to high offices. In 1983, she was honoured as Officer of the Federal Republic of Nigeria. In 1983, Life member, Nigerian Institute of International Affairs. In 1992, Fellow of the Historical Society of Nigeria, in 1999, Honorary Fellow of the Society of Obstetrics and Gynaecology and in 2005, Fellow of the Nigerian Academy of Letters. She has published many books, several chapters in books and several articles in learned journals